Outback AWD 2" Front/1.5" Rear Strut Spacer Kit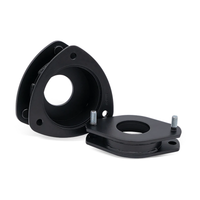 Outback AWD 2" Front/1.5" Rear Strut Spacer Kit
Unleash the full potential of your (2015-2019) all-wheel-drive Subaru Outback with our meticulously engineered 2" Strut Spacer Kit. Designed to elevate both your vehicle's style and performance, this kit empowers you to conquer new horizons with confidence.
Elevate Your Drive (literally): With a commanding 2.0" front and 1.5" rear lift, your Subaru Outback will command attention on and off the road. Say goodbye to limitations and embrace a higher vantage point that allows you to navigate rugged terrains, tackle steep slopes, and seize every opportunity for adventure.
Seamless Installation: No need to worry about complicated installations. Our Strut Spacer Kit is expertly crafted for a bolt-on installation process. Whether you're a seasoned DIY enthusiast or new to the world of automotive modifications, you'll find the installation to be a breeze, bringing your elevated journey to life in no time.
Preserved Ride Quality: We understand that your Subaru's ride quality matters. Our Strut Spacer Kit is engineered to maintain your vehicle's stock ride quality while delivering the extra lift you desire. Feel the difference as you cruise smoothly over diverse landscapes without compromising comfort.
Precision Alignment: Front spacers aren't just about lifting; they also play a crucial role in correcting caster and camber. Our kit's front spacers have been carefully designed to ensure optimal alignment, promoting enhanced handling and stability. Get ready to experience precise control as you navigate curves and turns with ease.
Tire Versatility: Fitting up to 235/65-17 tires, the possibilities are endless. Take your pick from a range of tire options that suit your terrain preferences, ensuring your Subaru is equipped for whatever path you choose. And while minor trimming might be necessary for certain wheel offsets, the result is a look that perfectly complements your vehicle's rugged charm.
Share