Forester AWD 2" Front/1.5" Rear Strut Spacer Kit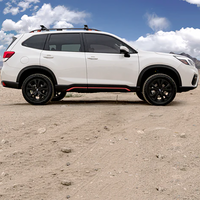 Forester AWD 2" Front/1.5" Rear Strut Spacer Kit
Elevate your 2019-2023 Subaru Forester to extraordinary heights with our meticulously engineered 2" Front/1.5" Rear Strut Spacer Kit. Crafted for those who demand both style and substance, this kit is your ticket to conquering every terrain with unwavering confidence.
Ascend to New Heights: Immerse yourself in a world of possibilities with an impressive 2.0" lift at the front and 1.5" lift at the rear. Your Subaru Forester will command attention on the streets while conquering off-road challenges with grace.
Effortless Transformation: Experience a seamless transformation with our user-friendly bolt-on design. Whether you're an experienced enthusiast or new to the world of modifications, our Strut Spacer Kit ensures a straightforward installation process.
Uncompromised Comfort: We understand the importance of a comfortable ride. Our Strut Spacer Kit maintains the stock ride quality you cherish, while unlocking new heights of adventure. Traverse diverse terrains without sacrificing your driving comfort.
Precision Performance: Navigate with confidence as our precisely designed front spacers not only lift your vehicle but also correct caster and camber angles. Enjoy improved handling, stability, and a driving experience that's truly exhilarating.
Tire Flexibility: Experience the freedom to fit 225/65-17 tires without the need for trimming. Whether you're cruising the city streets or exploring rugged landscapes, our kit adapts to your journey's demands.
Share