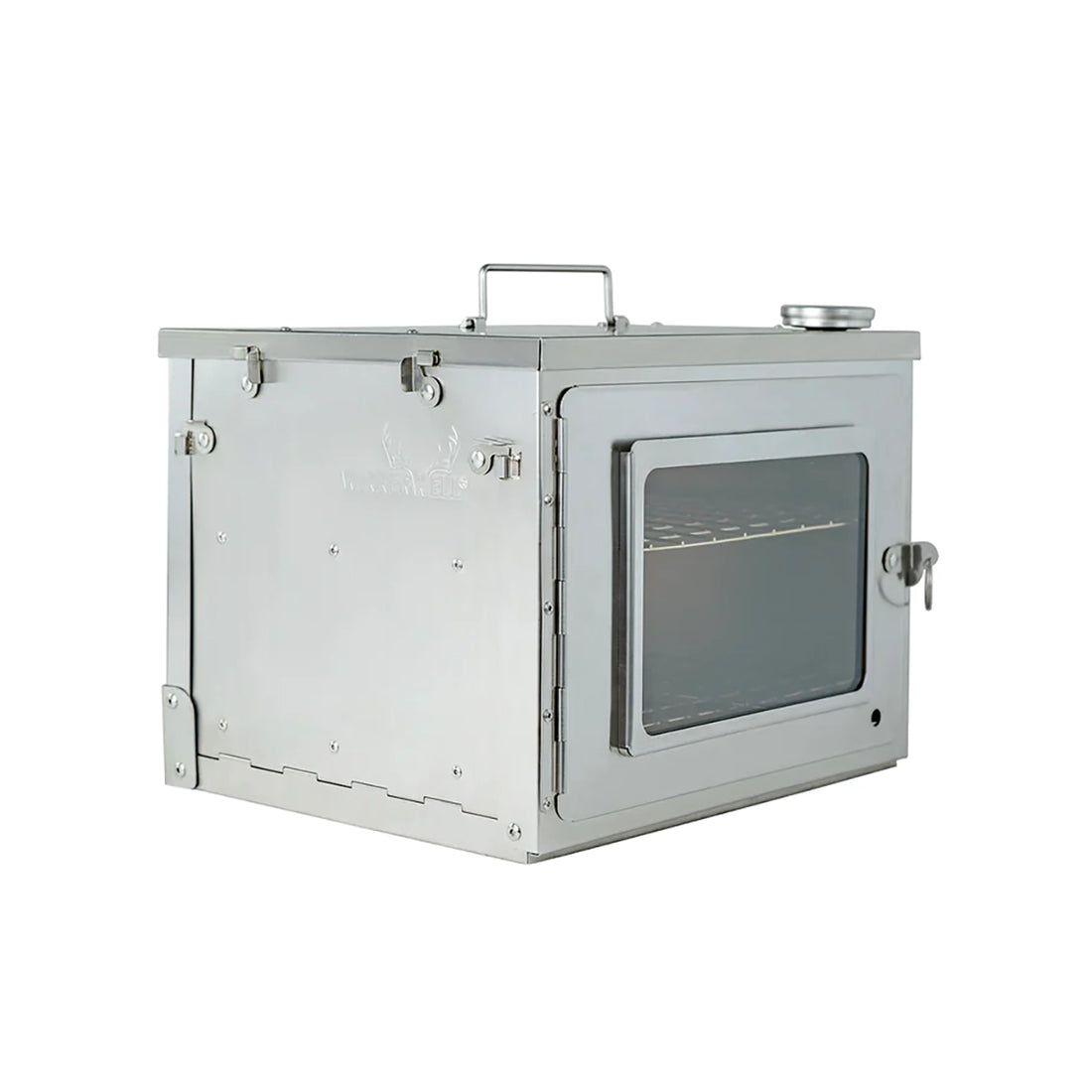 Introducing the Fastfold Oven - the ultimate camping companion for all your culinary adventures! Designed to work seamlessly with any Winnerwell Wood Burning Stove, this ingenious oven is here to elevate your outdoor cooking game.
The Fastfold Oven is a master of convenience. When it's time to hit the road, it packs down completely flat, ensuring it won't take up much space in your camping gear. Setting it up is a breeze, with no need for a toolbox - the integrated clasps allow for quick assembly, and there are zero tiny hardware pieces to worry about.
Once assembled, this camp oven is ready to rock. You'll love the freedom it offers when it comes to whipping up delicious treats in the wild. From golden-brown biscuits to gooey brownies, the Fastfold Oven is your trusty sidekick for outdoor baking.
Keeping an eye on your culinary creations is a cinch thanks to the built-in glass viewing window. Plus, there's an integrated thermometer to ensure your cooking temperature is just right. With these features at your disposal, you'll be the campsite's resident chef in no time!
Product Features/Specifications:
Compatibility: Works flawlessly with any Winnerwell wood burning stove or stable heat source.
Built to Last: Precision crafted from high-quality 304 stainless steel for durability.
Assembled Dimensions: 10.5" x 13" x 10"
Packed Dimensions: 10.5" x 13" x 3"
Lightweight: Weighing in at just 6.5 pounds, it won't weigh you down on your adventures.
Fastfold Design: No fiddling with hardware; the integrated clasps make assembly a breeze.
Temperature Control: Features an integrated thermometer and a convenient glass viewing window for precise temperature and bake management.
Share