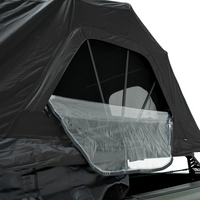 Presenting the High Country V2 Mini – Your Ultimate Outdoor Companion Upgraded for Adventure!
A New Era of Craftsmanship: Witness the evolution of camping with the all-new High Country V2 Mini. This isn't just a tent; it's a masterpiece of design that draws from traditional soft shells and innovative hybrid engineering. Be prepared to embrace 90 inches of sleeping comfort, a sleek design for minimal vehicle space, and reduced weight, all while enjoying the convenience of integrated High Country V2 crossbars!
Ready for Every Season: Designed for year-round exploration, this tent boasts cutting-edge Tri-Layer technology throughout its interior roof, windows, and doors. Whether you're chasing the summer sun or braving winter's chill, our nocium bug mesh screens, robust PVC windows, and adaptable 5" hose ports ensure you stay comfortable no matter the season. Available in two spacious sizes: Mini and King.
Always Covered: The hybrid shell ensures you never have to wrestle with a separate cover.
Built to Last: A fiberglass honeycomb dual shell, primed for additional crossbars.
Innovative Rain Fly: Our detachable rain fly, featuring resilient PVC windows, stands apart from the tent body. The secret? This separation creates an insulating air barrier, shielding you from extreme temperatures without compromising the tent's cozy interior.
Step into Spaciousness and Luxury Inside: Stepping into the High Country V2 Mini is like entering a realm of grandeur. The hybrid foldout design redefines what's possible:
Mini Version: Immerse yourself in a generous 50" mattress width and a sprawling 90" sleeping stretch.
King Version: Experience royalty with a 77" mattress width and a consistent 90" sleeping length – more room than a standard king bed!
Craftsmanship Beyond Space: Our commitment to craftsmanship goes beyond space. Revel under the Tri-Layer fabric ceiling, cocooned by the 300D tech fabric. Illuminate your nights with adjustable LED lights and keep your essentials within reach using four interior gear pockets.
Craving Extra Comfort? Enhance your rest with our optional Air Core mattress or indulge in the plush cloud topper mattress cover. Pro tip: Store bedding inside with the Air Core mattress for an effortless setup.
Product Specifications:
Exterior Closed Dimensions: 10.5H * 48.5"w * 58"L
Interior Open Dimensions: 40"h * 58"w x 97"L
Interior Height: A spacious 40"
Interior Mattress Dimensions: Luxuriate in a 50"w * 90"L x 2.25" thick mattress
Mounting Rails (Center to Center): 29"
Mounting Rails Length: A sturdy 82.5"
Mounting Rails Width: 1.8"
Top Crossbar Rail Length: King-sized comfort at 44"
Front Door Dimensions: 36"w x 24"h
Back / Side Window Dimensions: 32"x24" Back/42"x24" Sides
Convenient Storage: 2 Shoe Bags and Interior Pockets: (2) 10x12 / (2) 10x6.5
Roof Pocket Grid Dimensions: 11"x9" with Four Outer Pockets, 12"x9" Center Pockets
Mattress Size When Deflated: 2"h X 52"w X 73"l
Mattress Size When Inflated: 3"h X 52"w X 78.5"l
Room Inside for Gear: 3" with deflated mattress
Length of Side Channels: A generous 71.5"
Weight: A manageable 119 lbs
Weight Capacity: A robust 750 lbs
Tri-Layer Material: Crafted with 3 Layers of 150D Poly-Oxford with 90g/M2 Poly-fil
Mounting Bracket Size: 1.2"w X 7"l X .75" deep (Fits up to 3" bar)
Mounting Bolt Length: M8 - 1.25mm X 2"l
Carrying Capacity When Closed: 225 lbs
Ladder Height Open: 90.5"
Ladder Height Collapsed: A compact 30"
Ladder Width: 19"/12 lbs
Redefine Adventure with the High Country V2 Mini. It's time to dive into a world of unparalleled outdoor luxury!
Share