Bronco Rock Sliders | Off-Road Sliders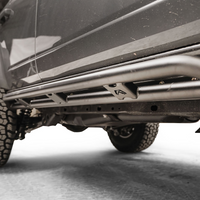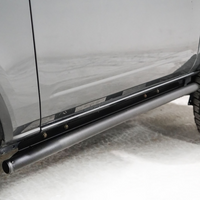 Bronco Rock Sliders | Off-Road Sliders
Unleash Your Adventurous Spirit with Reliable Protection
Protect Your Off-Road Beast with Rugged Bronco Rock Sliders
Are you ready to embark on thrilling off-road adventures with your 2-door or 4-door Bronco? Our high-quality tube rock sliders are designed to provide unbeatable protection for your vehicle while amplifying its rugged style. Crafted with precision and engineered for durability, these rock sliders are the ultimate companion for any off-road enthusiast.
Rugged and Reliable: Constructed from heavy-duty materials, our rock sliders are built to withstand the toughest terrains, ensuring your Bronco remains unscathed during extreme off-roading. Drive confidently knowing that your vehicle is shielded against rocks, branches, and other hazards.

Seamless Integration: Designed specifically for the 2-door or the 4-door Bronco model, these rock sliders seamlessly blend with the vehicle's aesthetics, giving it an aggressive and purposeful look. The sleek design enhances the overall profile of your Bronco, showcasing its adventurous spirit.

Easy Installation: Don't let complex installations dampen your enthusiasm. Our rock sliders come with a user-friendly installation kit, allowing you to easily mount them without the need for professional assistance. Spend more time exploring the trails and less time worrying about complicated installations.

Improved Ground Clearance: Our rock sliders are designed to sit close to the body of your Bronco, providing maximum ground clearance. This feature allows you to maneuver through obstacles and navigate rocky trails effortlessly, ensuring nothing holds you back from exploring the great outdoors.

Enhanced Side Protection: Off-roading often involves encountering tight spots, narrow trails, and potential obstacles. Our rock sliders act as a shield, safeguarding the sides of your vehicle against impacts and reducing the risk of costly damages. Maintain the pristine condition of your Bronco while exploring the path less traveled.

Stepping Assistance: Besides their protective benefits, our rock sliders also serve as practical stepping points for easy access to your Bronco's roof rack or cargo area. This convenient feature eliminates the need for unstable makeshift steps, providing you with a secure and stable platform for all your adventure gear.
Share