Truck Bed Air Mattress | 6ft Bed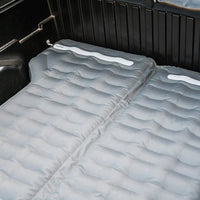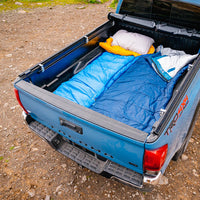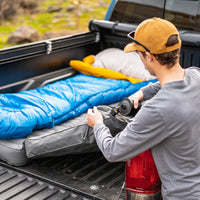 Truck Bed Air Mattress | 6ft Bed
Unmatched Comfort for Your Adventurous Nights. Indulge in the ultimate comfort during your outdoor adventures with the Luno Air Mattress 2 designed specifically for 6ft beds - like Ford F-150, Chevy Silverado 1500, Ram 1500, Jeep Gladiator etc. Elevate your camping experience and ensure a good night's sleep, no matter where your journey takes you. With its innovative features and superior quality, this air mattress is the perfect companion for your truck camping escapades.
Luxury at Your Fingertips. The Luno Air Mattress 2 offers a luxurious sleeping experience in the great outdoors. Crafted with precision and attention to detail, this air mattress combines comfort, durability, and style, giving you a premium sleeping surface while you're on the road. Its plush, flocked top provides a soft and velvety feel, ensuring a cozy and inviting sleep environment. Say goodbye to uncomfortable nights under the stars and embrace the indulgence of a home-away-from-home bed.
Customized Fit for Your 6ft Truck Bed. Designed exclusively for 6ft beds, this air mattress fits seamlessly into your truck, maximizing the available space and ensuring a snug and secure fit. Its tailored design takes into account the unique dimensions of longer beds, providing a perfect match that enhances both comfort and safety. Now you can sleep soundly without worrying about sliding or shifting, even on uneven terrain. The Luno Air Mattress 2 is the ideal sleeping solution for your truck camping adventures.
Durability That Withstands the Elements. Built to withstand the rigors of outdoor exploration, the Luno Air Mattress 2 is constructed with rugged materials and meticulous craftsmanship. The heavy-duty PVC construction resists punctures and abrasions, ensuring long-lasting durability. It is designed to withstand the demands of various weather conditions, making it suitable for camping in all seasons. Whether you're camping in the scorching summer heat or the chilly winter nights, this air mattress will provide you with a reliable and comfortable sleeping surface.
Only compatible with 6ft Beds - if you have 4-doors, you probably have a 5-foot bed so click here
Share